We are still in "No-Buy"-November, but Christmas is approaching fast.
And even though I was always against the crazy amount of consumption during these days, it is still nice and nothing wrong with surprising your loved ones with a little, thoughtful present.
The best and most sustainable option is always to craft something nice yourself, give time and memories, make food or upcycle old presents.
And less is really more when it comes to gifting. Try not to panic buy lots of stuff that will be thrown out anyway.
If you buy, try to buy second hand and from local shops and designer. They put much more care and love into their products and designs. And often will do a happy dance if you buy from them. Plus you're guaranteed to find a gift that someone doesn't already own!
So I listed my favourite local and sustainable designer, artists and businesses to give you some ideas.
This blog post is not sponsored. I just love all the designer and highly recommend them.

Simple Statements
We all know by now how much I love Anna's earrings. I wear them nearly every day to every occasion and with prices between 10£ and 18£ they are a very unique, sustainable and affordable gift! Read my full review here
Nixey
Each bag takes inspiration from the Celtic sporran accessory and is beautifully crafted by sporran makers in a workshop near the Highlands. But the 1834 is much more than a normal sporran; giving it a makeover to complement the modern lifestyle, both men and women can wear it in different ways thanks to the adjustable straps. Read my full review here
Rois Seaglass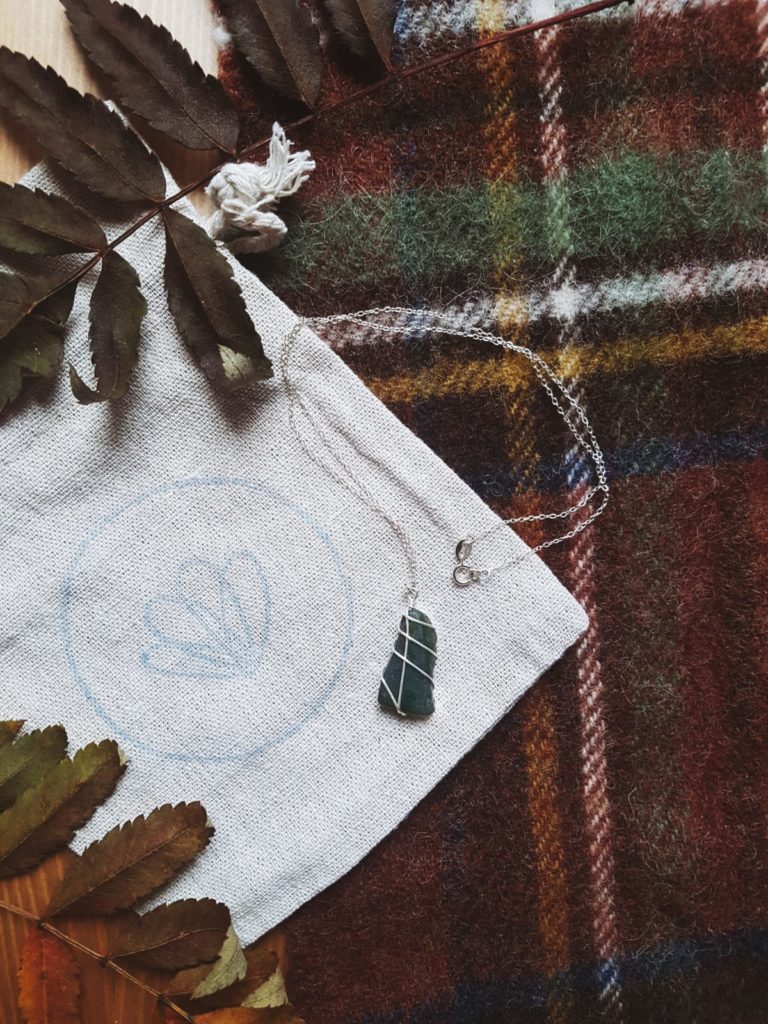 In case a loved one (or you) has Fernweh to their favourite beach in Scotland, Rois Seaglass is the perfect gift. They collect polished seaglass all over Scotland and turn it in unique jewellery. So you can wear a piece from your favourite place in Scotland always with you.
https://www.etsy.com/shop/ByRois
House of Halos
Cleaning the beach from plastic and turning it into beautiful jewellery? Yes please. House of Halos collects plastic from Scottish beaches and hand processes it with a melting process into one of a kind recycled ocean plastic beads. Wear House of Halos jewellery with pride knowing you are part of a sustainable movement working towards ocean plastic solutions and not its pollution.
http://www.houseofhalos.com/shop/
Tartan Blanket Co
Nothing screams more merry Christmas from Scotland than a soft, warm tartan blanket or scarf. Located in Leith, Edinburgh, it is a small, family run business and you can choose from many different wool types, sizes and tartan prints.
Adopt an animal
No, please don´t rush to the nearest pet store and buy a puppy. Pets are not presents for under the tree but life long commitments. But you can still make an animal lover happy by adopting an otter, red squirrel, beaver, harbour seal, puffin or garden bumblebee for them.
Nothing you want in your house? You don´t need to be worried about the carpet. I talk about adopting an animal for the Scottish Wildlife Trust. Adoptions directly help the animals: the money you give makes a real contribution to their work. I worked for the SWT during my first time in Scotland. From major species and landscape projects to managing wildlife reserves, education work and campaigning for nature, they protect Scotland's wildlife for the future.
A great gift which makes a big impact. Perfect for someone who already has everything except a Puffin.
Folkenrose prints
Known for her beautiful, moody photos of Scottish nature on Instagram, she finally now also sells prints. Why not trying something new with unique art prints instead of the last minute puppy calendar buy?
Message Abbi at Folkenrose for prints
https://www.instagram.com/folkenrose/
Lomond Soap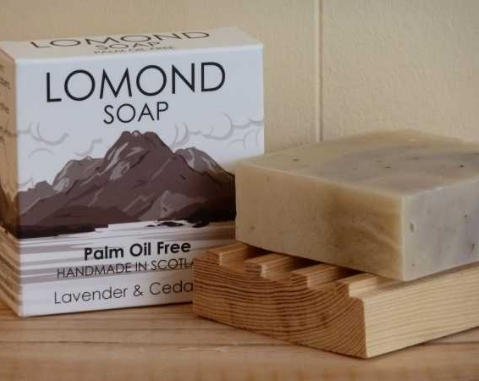 An ethical, natural, palm oil free soap hand made in Scotland in small batches. It is free from animal fats, foaming agents and chemical hardeners. They believe that their natural, handmade soap should not negatively impact on the planet or anything living on it. Therefore they make a small donation from every soap to The Orangutan Protection Foundation UK to help rescue, rehabilitate & release Orangutans displaced by the palm oil industry.
Clare Elizabeth
Clare designs and makes minimalistic jewellery like earrings, necklaces and my favourite, hairpins. She uses recycled silver, brass, wood as well as recycled plastics and botanical finds for her creations.
https://www.clare-elizabeth-kilgour.com
__________________________________________________________