Decorating the house for Christmas is a tradition I very much enjoy. I make mulled wine or tea, put on Christmas music and decorate the rooms. I have gathered or inherited many interesting things over the years. I don't think you need to start out with tons of decorations! It is something you collect over your lifetime.
Online there is no shortage of houses covered in decorations, but this is not very achievable for most people and that is okay! Make your home cosy and pretty with the little things that mean a lot to you, rather than tons of plastic and tinsel.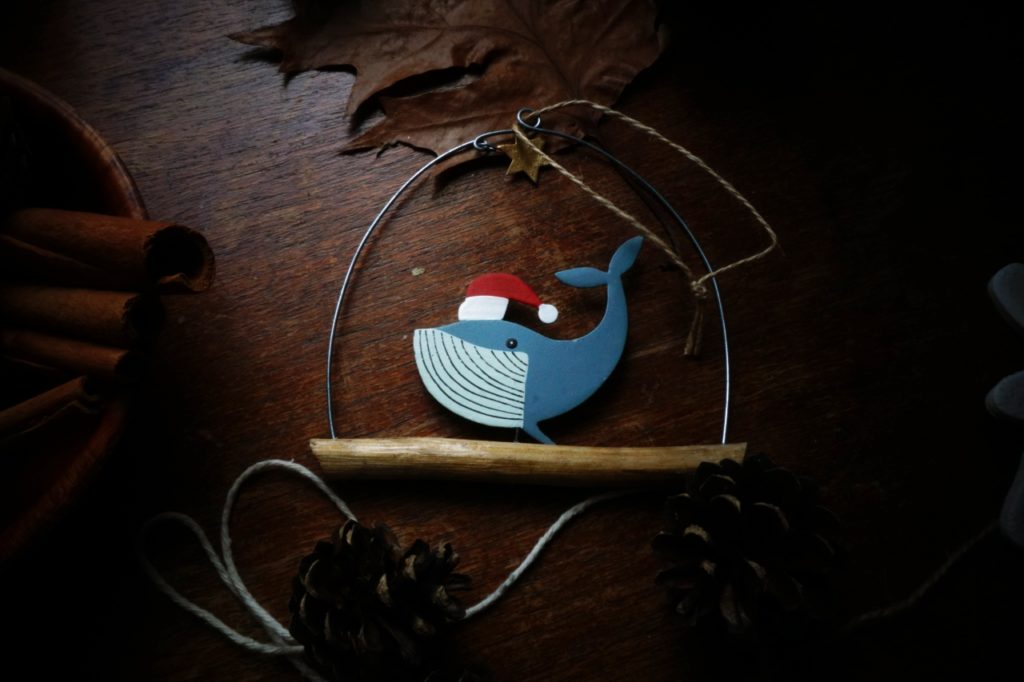 I listed some of my favourite self-made and sustainable decorations! I love how these activities involve being intentional and working with your hands. They are great slow living Christmas activities to do alone or with family. I think that is especially important during the holidays, when it's easy to get wrapped up in the stress.

Dry oranges
This is one of my favourite things to do during the holiday season because the scent is amazing and they are great for making garlands, part of a wreath or to use as a gift tag. They have to cook in the oven for a good chunk of the day, so it's the perfect excuse to stay home and have a slow day.
Slice oranges, lemon or any citrus that you want approx 1cm thick, arrange them on a rack or on a tray lined with baking paper, pat dry and bake at at approx 120C (250F) for for 2-3 hours or until dry.
Turn 2-3 times and keep checking on them.
The scent is not as intense as the scented bags and wraths you can buy on Christmas markets. This has one reason: The ones at the markets get sprayed daily with a scented oil blend. If you want a bit of a kick to the scent, just mix some essential oils like orange, pine or clove with some water and spray them every so often.

Salt Dough Ornaments
For sustainable tree decoration I like to aim for more eco friendly materials like ceramic, wood and glass instead of plastic if buying new – using and up cycling what you have is always better than buying new.
Salt dough is a great way to craft new ornaments and great fun to do alone or with family.
All you need is
All-purpose flour (4 cups)—
Table salt (1 cup)
Warm water (1 1/2 cups)
Whisk together flour and salt, then slowly stream in the water until it all comes together. Knead until dough is soft, about 5 minutes.
Preheat oven to 140°C. Place half of the dough between two large pieces of parchment paper. Roll out until roughly 5mm thick. Remove the top sheet of parchment. Using cookie cutters, cut shapes. After you're done, transfer the parchment with shapes to a baking sheet.
Using a straw or toothpick, poke a hole for ribbon. Bake in preheated oven for 1 hour, or until hard.
This is another sustainable but fun handmade activity. The process of making the dough, rolling it out, cutting the shapes, and decorating them when they are dry is slow but fulfilling.

Garlands
Garlands are one of my absolute favourite Christmas and winter decoration. I would love to cover every surface in my house with fresh evergreen.
Crafted Garlands are beautiful and know no boundaries when it comes to creativity. You get the traditional chain Paper Garland, but you can also make little trees from tassels. It's a great way to use leftover or cut off wrapping paper, which isn't big enough anymore to wrap gifts. Or why not use a gingerbread man dough ornament and pom poms to make a festive bunting.
For a very simple one, you can glue foraged pinecones, dried oranges and cinnamon to twine. If you dry everything properly, it will last for many years.
Foraging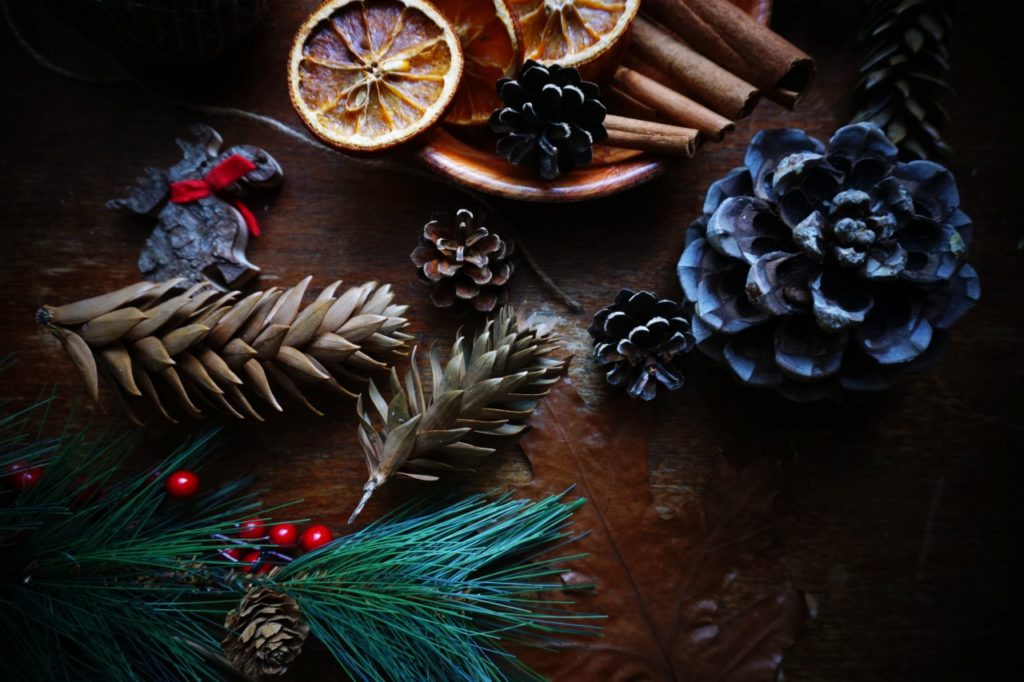 Foraging is great as you can combine it with a lovely winter walk. Every year I forage Pine cones, Holly, Fir, branches and miscellaneous items I think look nice. I like to hang up a branch and tie twigs, oranges and cones to it. It looks great throughout the whole winter, not just Christmas.
I try to take things which animals already broke off the trees and bushes, rather than cutting them. And rule number one, never take too much, as many plants are needed by the wild animals to survive the winter.
Paper Stars
We've probably all seen the beautiful big paper stars. They look so pretty and are really easy to make! You find many great instructions and ideas online.
I like mine to look natural and rustic, so I used the brown paper that often comes in parcels when you order online. You can also buy beautiful printed paper in local shops or use leftover wrapping paper.
Simmer pots
While this is not a decoration per se, one very important thing about the Advent time and Christmas is the scent! We all have one very particular scent which takes us straight back to our childhood.
Self-made Mulled Wine is one way to make the house smell amazing, but maybe not an option on a Tuesday morning. Simmer pots are a great alternative – Toss orange or clementine peels, pine, cinnamon sticks, and water into a pot and keep it simmering on the back burner all day.