I was recently invited to the opening of Point A Hotel Edinburgh.
We headed to the heart of the city for a night to check out the hotel for ourselves and to celebrate the launch of their latest addition to the Point A Hotels budget boutique brand.
It opened its doors just in time for the Festival Fringe, bringing low-priced stylish rooms to the Edinburgh city centre.
I was very excited to spent a night at the Hotel and to check it out myself, as I always find the hunt for nice places to stay very tiring. Usually, It is either way out of your price class, or has not much more charm than a dorm room.
Not Point A Hotels. I was amazed right from the beginning. The Point A Edinburgh manages to be right in the heart of all the action whilst also being in a quiet spot.
The Hotel
Located at Haymarket it is only a 10 minute walk to lively Princes street and Lothian Road, and 15 minutes to the beautiful Old Town and Castle. However being just off the busy roads, you get a full night sleep without the noise of partying hordes or rush hour traffic. And with Haymarket Station, being a major transport hub, you could easily get out of town for a day trip to Glasgow or the East Coast.
Entering the lounge I felt like I walked in a 5* Hotel rather than a place that markets itself as budget. Reception, Bar and lobby lounge are well designed with fantastic interior I would describe as Scandi meets futuristic-boho. So I pretty much felt home straight away.
The interior features lots of Edinburgh related Prints and Photos, which gives it a very personal touch.
The rooms
The 149 rooms start at 69£per night and are quite compact, but hold everything you need. There's a simple choice between doubles or twins (with accessible versions). The Hypnos bed with throws from the Isle of Bute is very comfy and faces onto a feature wall, where most of the room's facilities are located. A cupboard with big mirror,  USB-, and Power Plugs, a padded headboard and a small safe, that will hold your laptop and valuables. There's a 43-inch Samsung Smart TV, with Google Chromecast located just opposite of the beds and a fold-down table, a hairdryer and chair all set into the wall. The room is quite well designed to fit all of these amenities into such a small space.
Just like the room, the bathroom is very compact, with a power shower, toilet and basin with large mirror. It had fresh towels and toiletries and the shower was hot with good pressure.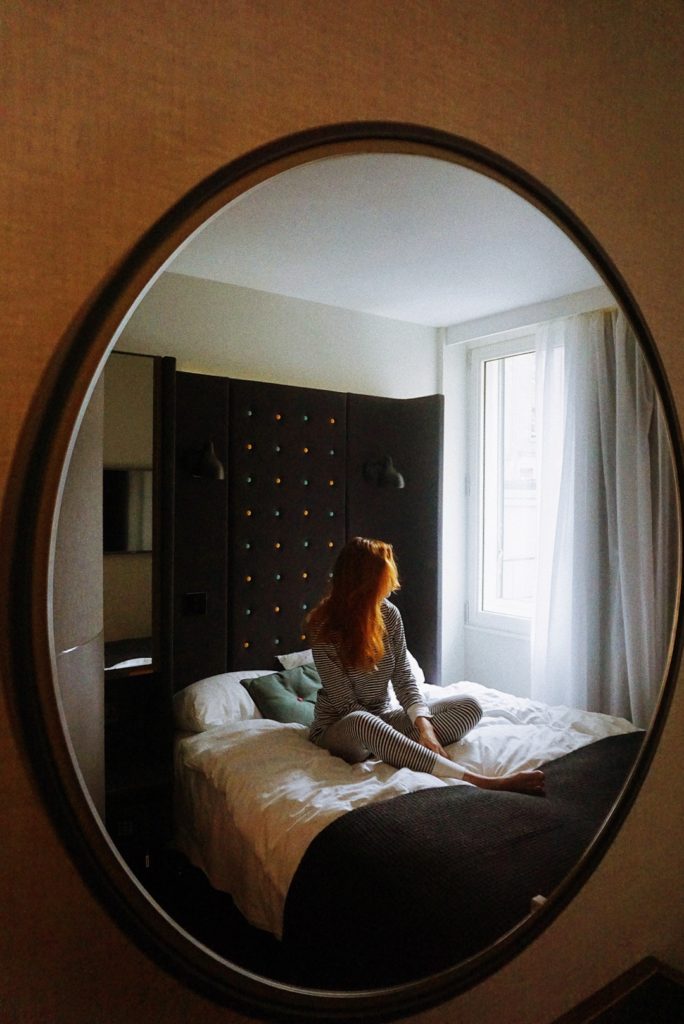 My favourite part of the room however was the mood lightning. You could change the tones of the room to different colours, from red over purple to green and blue. We had lots of fun playing with it and it gave the room a very nice and cosy feeling.
If you should ever get tired of playing with the disco lights, you could take advantage of extra-value offers and deals at local bars, attractions and restaurants through the "A-List", a free-to-join signature loyalty programme.
The bottom line
The Point A Hotel Edinburgh is different to the other Hotels in the city because it manages to be in the heart of the Centre, suit the budget traveller while having nice, high standard rooms and a decent breakfast. I was really impressed by this and would recommend this hotel to anyone wanting to book a short stay in Edinburgh. I will definitely keep the other Point-A Hotels in mind for when I visit London or Glasgow.
Head over to Point A's website to check it out yourself!
    ____________________________________________________________________________________________________________________________
Disclaimer: this blog post includes a gifted experience from Point A Hotels. All thoughts and images are my own!