I was told that you could eat everyday in a different restaurant in Edinburgh for a year without going twice to the same place! Its probably the same when it comes to coffee shops, Edinburgh being the second city for coffee culture in Great Britain after London.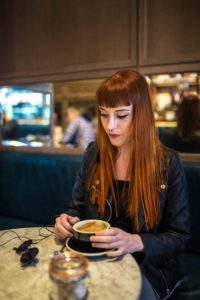 Since the weather is pretty unpredictable here you need to have a few good adresses to shelter! You can count on me to help distinguish between touristy soulless places and  tasteful, admirable and gorgeous coffee shops! The best: All of them are vegan friendly with a choice of at least one or two plant based milks, most of them also have vegan snacks.
Here's my selection:
The Milkman
One of the coffee shop I would definitely recommend if you are in Old Town. It's really small and sometimes you have to wait a few minutes until you get you're coffee, but its worth the wait. The staff is really welcoming, and you feel good in those cosy little sitting spaces nestled to old stone walls along with a lot of wood and plants.
7 Cockburn St, Edinburgh EH1 1BP
Burr&Co
Burrs it's a very classy and noble café in New Town. Good snacks, I loved the quiche there. I really enjoy the black and white minimalistic interior with a touch of the golden Age. Two minutes from Princes street as well, it's a big plus amongst the chain coffee shops there. So dress fancy (not mandatory!) and go get a coffee, their very own George Street blend or just a coconut hot chocolate!
20 George St, Edinburgh EH2 2PB
La Barantine
Home made cakes by a French pastry chef. Should I say more?
Authentic french food, staff, bread everything is basically french there!  Great coffee also. People go there for their lovely home made macarons that you can see on an Eiffel tower in their display on Victoria Street. They also have a second shop in Bruntsfield, close to the Meadows.
89 W Bow,  EH1 2JP & 202 Bruntsfield Pl, EH10 4DF
Marlayne's café
A bit hidden and unpredictable: You can't tell that there's such a nice place form the outside! Very cosy. I would describe that place as if it was an American diner own by a french person in the 70's!
Selection of veggie option and plants milk. My favourite feature? It's open till late. Cause there's a restaurant at the back of the cafe area, which is a plus in a city where the cafés mostly close at 6 o'clock!
13 Antigua St,  EH1 3NH 
Baba Budan
Best home made donuts in the capital. Like most of the best coffee place in the city it's wee. But you have to make sacrifices for the sake of quality products. Really cheerful as well, you might have to share your table with other people as you sit on benches. But I've met some lovely ladies knitting there!
17, 12 E Market St,  EH8 8FS
Pretty far from center town (I went to the one on the shore) but the location is stunning!
The interior is charming. 50's kind of style which goes pretty well with the cute award winning cakes they serve. Mixing classics of the British pastry culture and some inventive recipes you will definitely find something you fancy there.
63 Shore,  EH6 6RA
Hotel chocolat
Really really tiny! I try not to go to chains but I have to do an exception for that one. That's the best hot chocolate that I had in Edinburgh. I go either for the coconut milk classic hot chocolate or the tasty salted caramel hot chocolate whenever I feel adventurous.
7A Frederick St, EH2 2EY
http://www.hotelchocolat.com/uk
Hendersons
This place is mostly known for freshly prepared vegetarian and vegan dishes made from the best seasonal organic ingredients. But they also have a nice Café where you get the biggest choice of plant based milk alternatives I've seen so far.
94 Hanover Street, EH2 1DR
https://www.hendersonsofedinburgh.co.uk
Lovecrumbs
Another coffeeshop I can recommend if you're in Old Town. It's near the Grassmarket and beside a lot of hot and cold drinks you can also try fancy cakes and pastry. Go and enjoy your vegan Pecan- sweet potato cake IN the cozy shop window sitting space.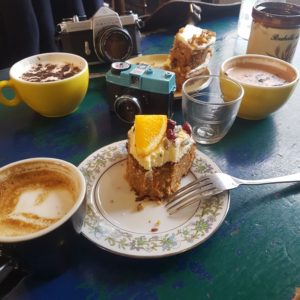 155 West Port, EH3 9DP