Christmas always comes so suddenly. I mean, yes, christmas sweets hits the stores by end of september and we all know how to use a calendar. And glittery, crowded markets with mulled wine and Mariah Carey on endless repeat are a visible warning of the upcoming holidays. But most of us still manage to ignore all the signs and are shocked when we realize that we have a bit more than a week to buy all the presents, bake cookies, get the tree up and come into a festive mood. To make it a bit easier (especially for you guys), I´ll show you my favourite stocking fillers and christmas presents for her. The best part: You don´t need to leave your warm, cosy home to shop any of them!
Warehouse
One of my favourite places to shop this christmas is warehouse. I own quite a few pieces from this well-known british brand. It takes the urban lifestyle as its inspiration and creates fashion for the modern woman that captures today's urban spirit and attitude with a british twist.
They offer a cute range from scarfs over christmas jumpers to beautiful, delicate jewelry.  The pieces are good quality for an affordable price. To make it even more easy to find the right present, they offer a gift guide this year with the top christmas present picks for her.
From monogrammed leather handbags to unusual stocking fillers, there is something for every special lady.
My top picks
I picked my favourites to give you some ideas:
For my sister I picked this cashmere hat and the heart shaped bag. She just started university in a new city and this bag would be the cutest on every student party. The hat keeps her warm when she rides her bike to classes.
                                                                                          Hat: Warehouse |  Bag: Warehouse
My best friend is stylish and loves going out for dinner, theatre or just some cocktails. This pearl-embellished jumper and the statement earrings are easy to style but make everyone stand out.
                                                                                        Jumper: Warehouse |  Earrings: Warehouse
I couldn´t resist to pick some pieces for me as well. *hinthint*. I love christmas jumper, and this one is fun but not too ugly. Perfect for christmas breakfast. Everyone who knows me is aware of the fact, that I love tassel earrings. Red ones are still missing in my collection and what is more christmasy than red bauble look -a-like earrings? My last pick is this chain bag. Small in size but big in impact, this bag is ideal for drinks, dinner or dates. Warehouse offers a monogram service to personalize it.

                                              Jumper: Warehouse |  Earrings: Warehouse | Bag: Warehouse
Adopt an animal.
No, please don´t rush to the nearest pet store and buy a puppy. Pets are not presents for under the tree but life long commitments. But you can still make an animal lover happy by adopting a badger, beaver, common seal, osprey, otter, peregrine, puffin or red squirrel for them.
Nothing you want in your house? You don´t need to be worried about the carpet. I talk about adopting an animal for the Scottish Wildlife Trust. Adoptions directly help the animals: the money you give makes a real contribution to their work. I worked for the SWT during my first time in Scotland. From major species and landscape projects to managing wildlife reserves, education work and campaigning for nature, they protect Scotland's wildlife for the future.
The adoption pack will include a certificate, fun factsheet, a selection of stickers and either a picture or a soft toy. A great gift which makes a big impact. Perfect for the small sister, niece or just someone who already has everything except a Puffin.
Art Prints
Why not trying something new with beautiful, unusual and unique art prints instead of the last minute puppy calendar buy?
Darja Bylik Fine Art
The magical realism by scotland based photographer Darja Bylik will improve everyones walls. From fairytale paths on the Faroe islands to dancing foxes, she creates unique art which invites to dream and discover new worlds. You can find beautiful items of the highest quality in her etsy shop. Or just browse her website and choose any photo you would love to see on your grandmothers wall next to the collection of painted plates.
Mapiful
Another shop I really like is mapiful. If you or a special one ever wished for a printed map poster of their hometown or a place with special,personal history , chances are high you've ended up empty handed if that place isn't Berlin, London or New York.
On mapiful you can choose from any place in the world and design your own unique, customized map poster. Last year I got a poster of Düsseldorf for a friend. The quality is great and it´s a unique gift, because every map can be customized. So if your best friend is about to move to Australia for a year or you want to surprise your girlfriend with a map of your first kiss, this is the gift to go with.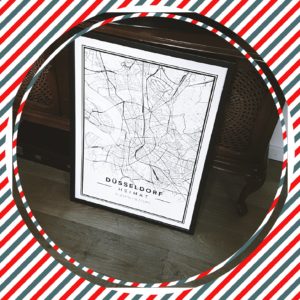 I hope my gift guide will help to find the perfect gift for your special woman. Happy shopping!
______________________________________________
*This was a collaborative post